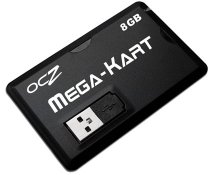 I don't know how many times I have been in a jam where I needed to move some files and my pathetic USB key fob didn't have the necessary space to hold my files. Well, if you are looking for some serious potable storage, the Mega-Kart by OCZ Technologies may just be the device for you.
The Mega-Kart gives you 8GBs of memory in a super tiny case (84mm x 53mm x 4mm). The Mega-Kart has built-in, high-speed USB 2.0 cable which allows you to access your files from the convenience of any USB port. The Mega-Kart can also be used as an external drive to play music and movies, view images, or open files. The Mega-Kart also has an LED to signal read/write activity.
This little device certainly has a lot of utility and with 8GB of storage you can get yourself out of just about any storage jam. Shouldn't every self-respecting techie have 8GB of storage on them at all times?
Mega-Kart [OCZ Technologies]