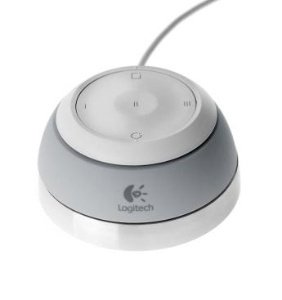 The NuLOOQ navigator (pronounced 'new look') from Logitech is not new to the market as it's name might imply, but it is probably "Nu" to you if you are not a graphics designer with a Mac.Up until now the NuLOOQ has been available and on the market, but it came with an Adobe Suite of products, and was only supported by the Mac. Now it is sold separately and works with Windows XP SP2 or more. It works with a few products where the design of the NuLOOQ is probably most handy and practical, such as some Adobe graphics programs, MS Word and Excel, Final Cut, iMovie, and iTunes, but it can be configured to work with just about any application with it's programmable buttons.
The NuLOOQ is stationary and weighs about a pound, but with it's navring you can spin it around to zoom and select different tools in you applications, and with the tooltuner you can select finer precision items by spinning your finger on the touch sensitive disk. You can also program 5 different buttons for 5 custom functions.
I would not consider the NuLOOQ a replacement to a mouse, but it can definitely be an advantage once you get the hang of it when you are using graphics programs and the like, and it makes navigating iTunes a breeze.
NuLOOQ [Logitech]