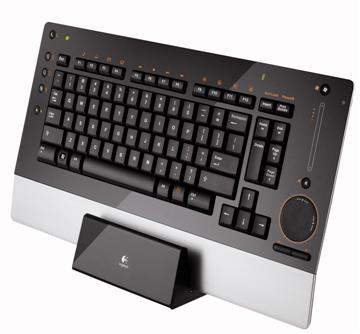 Desktops are really becoming more popular as things are becoming more wireless in general. The new wireless keyboard and mouse combination from Logitech further enhances the move towards disconnected innovation, and is doing it with some style.
A really nice feature with the DiNovo Edge which is not common in other similar desktops is having mouse-like navigation on the keyboard. Anyone that has had their keyboard sitting on their lap while leaning back in their chair has encountered the incredible inconvenience of finding they need their mouse for something. Having the Logitech TouchDisc on the keyboard can eliminate the need for your mouse and let's you lean back and relax a little while working.
Another nice feature is some of the "stealth" hot keys that are backlit and only visible when activated by touch, and then fade away. There is also a touch sensitive volume slider that lets you adjust the volume with a slide of your finger.
This Logitech DiNovo Edge is going to be compatible with Windows XP, the Windows Media center and compatible with the upcoming Windows Vista OS's with special start and search keys for Vista.
Bluetooth allows you to have up to a 10 meter distance range which is great for living room use, and with the new artistic style of the keyboard and charger/stand, the actual device can look good in your living room, too.
The Logitech DiNovo Edge is expected to be available to the US and Europe in November, 2006 with a price tag of just under $200 USD.
Logitech News [Logitech]