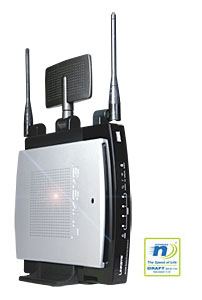 Those people looking for wireless Gigabit in their home just got a new option in the Linksys WRT350N Wireless-N Gigabit Router. The Router utilizes Wireless-N (draft 802.11n) and MIMO, which is the very latest in wireless networking technologies. Up to 12 times faster than Wireless-G, the WRT350N will work with both Wireless-G and -B devices.
The Wireless-N and gigabit wired networking is positioned towards those users of media-centric applications like streaming video, gaming, and Voice over IP telephony. This router will give you plenty of bandwidth to run multiple media-intense data streams through the network at the same time.
More than just a router, the WRT350N is four devices in one box:
1. A Wireless Access Point
2. A built-in 4-port full-duplex 10/100/1000 Switch for your wired-Ethernet devices.
3. A Router function lets your whole network share a high-speed cable or DSL Internet connection.
4. The Storage Link feature lets you quickly add gigabytes of storage space onto your network using readily available USB 2.0 hard drives or flash-based USB storage devices.