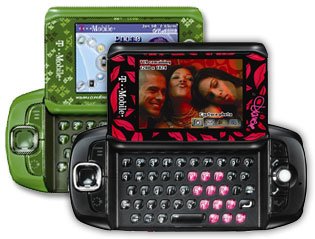 The Sidekick 3 has been out for few months now, but T-Mobile has brought some attention back to the popular device by bringing out two special editions. The Features have remained the same as the original Sidekick 3, but the designs are what's new. There is one model designed by each of the Lifted Research Group and Diane von Furstenberg in green and black, respectively.
The T-Mobile Sidekick 3 provides an array of communications options, including common phone capabilities, built-in support for three instant messaging clients, e-mail, and Web browsing to allow you to communicate on your own terms with those who matter most to you. The limited edition T-Mobile Sidekicks includes a powerful, feature-rich offering, equipped with the exact same extensive feature-set as the original T-Mobile Sidekick 3, and the same full qwerty keyboard that makes this device so versatile.
Web browsing enhanced with EDGE technology ensure fast downloading speeds for accessing you favorite web sites and photo sharing sites. Additional features that have contributed in making this device a real hit with the trendy types include a 1.3 megapixel camera, MP3 player, Bluetooth wireless connection technology, a trackball for easy navigation, and its slim size.
The new Sidekick models will be on sale in stores and online starting on October 30th.


Press Release [T-Mobile]