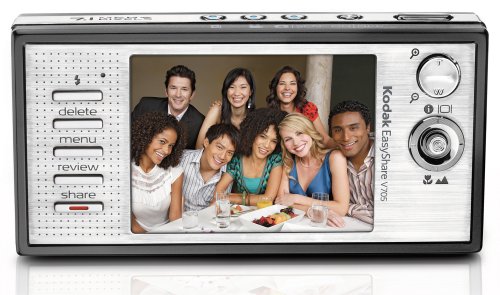 If you are a snapshot photographer like me, I can't think of a feature set in a camera better than the new Kodak V705. An upgrade from the similar Kodak V570, the V705 has added a few upgrades including a 7.1 megapixel CCD. The Kodak V705 is a dual lens camera with dual sensor as well.
One thing I was surprised at is that this camera doesn't have a dock. It is a Kodak Easyshare, but if you want to hook it up to a printer, there are some adapters or a plug in you can use. It's not that inconvenient, but I just expected it to have a dock I guess. They have set the standard for us non-professional photographers, I guess. This camera does have a great big wide screen and 22 different scene modes, which is just great when you are on the go and taking and viewing pictures. You can edit and use editing features right on the camera, and there is a dual view, so you can look at the original and the modified side by side before saving the changes. Man I like that.
They kept it pretty thin so you can fit it in small places, but you do need to pay for that dual lens. It's nice, but they do not give the feature away! The performance is pretty fast for taking a bunch of photos in a row, but it takes a few seconds to "boot up". Not bad by most cameras of this type.
Read the Press Release [Kodak]
Cameras, Digital Cameras, EasyShare, Kodak, V705