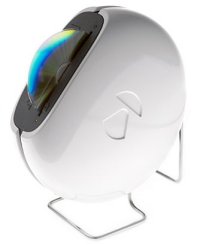 Have you been shopping around for a Media Center PC for your home but you find the current models a bit too industrial looking? Perhaps the stylish Kapsel Media Center PC is just what you need.
The Kapsel was designed by Propeller, an award-winning Swedish design agency. Kaspel utilizes a small form factor (27x23x10 cm) which allows for some flexibility as it can be positioned either horizontally or vertically as well as mounted to the wall. The Kapsel shell is made out of quality ceramics which adds to its aesthetic appeal.
Kapsel enables you to take advantage of Windows Media Center Edition, such as online Music and Video services, TV viewing and recording. Kapsel comes with the Intel Viiv platform and will take advantage of dual-core processors (Intel Core 2 Duo). Thankfully there will be no long boot times as users will be able to very quickly turn on and off the PC with Intel Quick Resume Technology.
Kaspel is positioned as a Media Center PC for those discerning shoppers who are concerned with looks in addition as well as performance.
Kapsel will be available in November 2006, price not yet disclosed.
Kapsel [Kapsel.com]