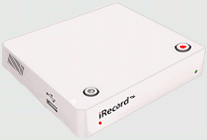 The iRecord Personal Media Recorder allows you to record movies or TV shows directly to your iPod, PSP or any other USB mass storage device or portable media player without the need of a computer to do the transfer.
iRecord works by recording analog video and audio from any source with S-video or RCA video and audio outputs, including DVD players, TVs, TiVo, VCR or any cable/satellite set-top box.
iRecord uses various compression techniques to give you up to 3 hours of video/audio recording per Gigabyte of storage. The iRecord encodes H.264 video in real-time at the standard iPod and PSP resolution of 320×240. iRecord is also able to record MP3 audio directly to most iPod models.
The iRecord is available now for $199.