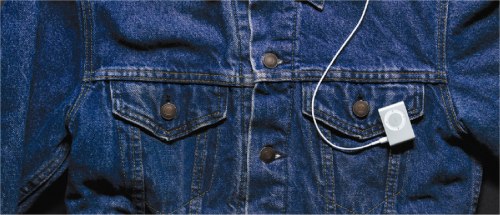 Apple has announced that it's newest member to the iPod family, the new iPod Shuffle, will be available for purchase this Friday. This will be the smallest of the iPod family to date.
The iPod Shuffle is a digital music player that can be connected to your Mac or PC via USB 2.0 and an included dock to sync up songs from Apple's iTunes music store.
The new iPod shuffle has 1GB of flash memory which allows it to hold up to around 240 songs (avg 4 minute song), and the battery gives it up to 12 hours of life on a full charge depending on use and the number of charge cycles the battery has had. The new shuffle is only about half the size of it's predecessor at only half a cubic inch in total size and half and ounce, but certainly not half in performance or capacity.
The shuffle has a money clip-like attachment to allow you to easily and securely attach to clothing, and has a simplistic aluminum case.
According to Apple's vice president of Worldwide iPod Product Marketing Greg Joswiak, "With its ultra-compact design and built-in clip, the new iPod shuffle is the most wearable iPod ever,". Joswiak continues, " The new iPod shuffle completes our all-new lineup of iPods for this holiday season and beyond, and we hope it's going to be a huge hit."
The shuffle was first unveiled in September by Steve Jobs, CEO of Apple, along with updated versions of the Nano and video iPod to try to spark some additional popularity and sales. This new iPod along with it's siblings will most likely face some competition in the coming holiday season with Microsoft's Zune coming out next month, as well.
The new iPod shuffle will be priced at $79 USD and available worldwide on Friday.
Announcement [Apple]