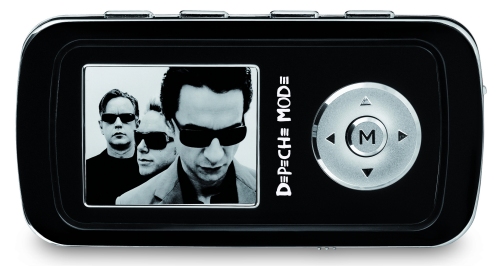 TrekStor, German designer and manufacturer of external hard disks, USB sticks, and portable digital media players, has released its first portable music and video player in the U.S. The glossy-black i.Beat vision DM is not only aimed at the music and video fanatic, but at those who also want to view JPEG photos, listen to FM radio, or record conversation or dictation.
At less than three inches long and an inch-and-half wide, the i.Beat vision DM features a sharp 1.3″ LCD Screen for displaying colorful menus, viewing photos, or watching videos.
The player incorporates an FM radio which has the capability to record directly off the radio or you can record all of your great ideas with the built-in voice recorder. You can also play your favorite podcasts or audio books making it a flexible solution for you to manage your photos, audio books, videos, and your music.
The i.Beat vision DM comes in storage capacities of 256MB, 512MB, 1GB, and 2GB. It holds up to 600 songs, thousands of photos or over 20 hours of video.
Listen to music for 10 hours or watch video for up to four hours on a single charge. The embedded lithium-polymer battery can be charged and recharged via the USB interface in less than three hours.
The i.Beat vision DM can also double as a data storage device, exchanging information with a PC or Mac via a high-speed USB 2.0 interface.
The i.Beat vision DM is available at Amazon.com and comes preloaded with the song "Suffer Well" from the latest CD by UK band Depeche Mode. The MSRP is $202.99 for 256MB, $229.99 for 512MB, $256.99 for 1GB, and 309.99 for the 2GB model.