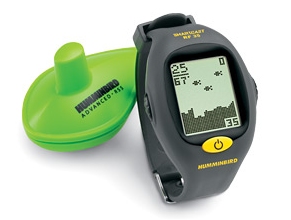 It's not too often that we see many fishing gadgets, but if you are looking for a gift for the fisherman that has everything, they might not have the Humminbird SmartCast Watch Fishfinder.
This wireless fishfinder utilize a transducer called a Remote Sonar Sensor (which adds a new definition to RSS). The sensor weighs only about one ounce and is cast into the water with your normal rod and real as if it were a regular lure or bobber attached to your line. The small Hummingbird fishfinder sends and receives sonar signals to find the water depth, the presence of fish and any underwater structures, and then uses a wireless link to transmit that data to the display on your wristwatch.
The floating fishfinder can transmit up to 75 feet from the watch, and can read accurately to depths of up to 120 feet on the 1 1/4″ black and white display. Due to the design of this fishfinder gadget you cannot tell your speed across water, but like a normal watch it does show date and time.
Product Page [Humminbird]