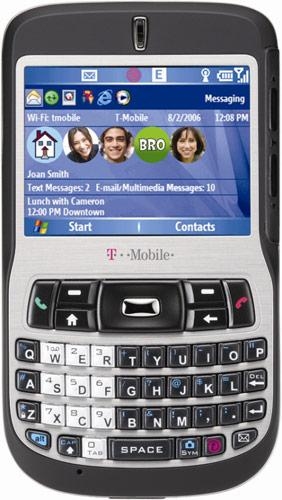 It was only a matter of time before the Motorola Q would have some serious competition, and the T-Mobile Dash from HTC has proven to be just that, causing the Q to have to share some space at the top of the list of smart phones.
The T-Mobile Dash running Windows Mobile has made a nice design in a smart phone with a full Qwerty keyboard so users can bring their office with them in their pocket. The Dash has a pretty impressive feature set that makes it a force to be reckoned with, starting with it's integrated WiFi, which immediately puts it a step ahead of the Moto Q and BlackBerry devices. It also has supports Bluetooth connectivity, the ability to push emails and a built-in 1.3 megapixel camera. The T-Mobile Dash also has an impressive battery life rated for 5 hours of talk time and 9 days of standby, but a review on CNET showed they were able to get 11 hours of talk time out of theirs. The l 2.4 inch bright color display doesn't hurt anything, either.
Along with WiFi the Dash supports the entire quad-band crew of wireless connections adding GSM (850/900/1800/1900), GPRS and EDGE to the list. This of course allows some pretty high speed web surfing using the included Internet Exlporer Mobile.
The T-Mobile Dash runs on the Microsoft Mobile 5 Smartphone edition with the ClearVue suite of mobile applications, which has programs for editing documents, spreadsheets, Powerpoints, and reading PDF's. The Dash has a MicroSD expansion slot to add additional memory or to move files, and has 128 MB of Flash ROM and 64 of SDRAM internally.
Product Page [T-Mobile]