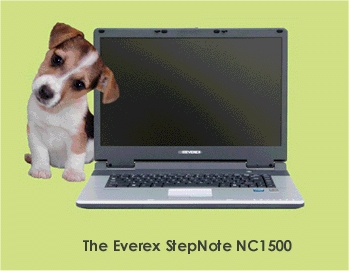 Everex Systems, a maker of PC's and notebooks, along with Via Technologies, who also has the world's first carbon free processor, have together unveiled the energy-efficient StepNote NC1500 notebook.
The StepNote NC1500 comes with a 15.4-inch wide-screen display, built-in wireless LAN, a DVD burner, and contains the Via C7-M processor from Via Technologies to provide ultra-low power consumption, advanced security features, and does all this at a performance of 1.5GHz using only 12W peak power.
According to the two companies, the StepNote NC1500′s utilization of Via's Enhanced PowerSaver technology along with its TwinTurbo allow the laptop to automatically transition between different power states, providing a 2battery life that can be up to 20 percent longer than other comparable systems. This combined commitment between these two companies was done to provide a more energy-efficient, environmentally friendly notebook. By using less electricity, the NC1500 has a lower overall cost of ownership.
"Teaming up with Via, Everex has been able to create an exciting new category of energy-efficient portable computers. Unlike products which rely on costly, power-hungry processors, or potentially hazardous batteries, the ground-breaking design of the NC1500 provides consumers with a true, no-compromise alternative.", spoke John Lin, vice president of sales, Everex.
"The latest notebook from Everex embodies the 'Simply Mobile' spirit of the Via C7-M processor in enabling truly portable computing. With the best performance-per-watt operation in the industry, and innovative features such as Enhanced PowerSaver technology and the PadLock Security Engine, we are confident that the NC1500 will be a front runner in a market yearning for robust mobile solutions.", added Epan Wu, deputy director of CPU product marketing, Via Technologies.
The StepNote NC1500 comes with the Microsoft Windows XP Home Edition OS, the Via Unichrome Pro with Chromotion CE Video Display Engine, 512MB DDR2 SDRAM of memory, and a 60GB hard drive. The notebook weighs around 5.9lbs and it's demensions are 14.1″ x 10.7″ x 0.9 – 1.5″ (W x D x H).
Availability has not been announced for the new StepNote NC1500.
News Release [Via Technologies]