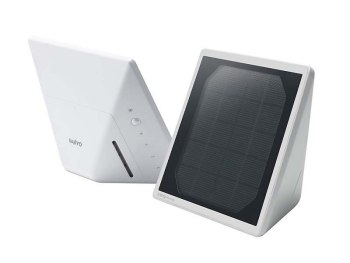 Sanyo had introduced a handy little gadget to recharge batteries using solar power. The Eneloop solar charger will recharge 4 AA batteries using nothing but the sun. It also has a port to let you charge other devices with rechargeable batteries via a USB connection.
At the same time Sanyo has also released a small, hand held heater that is also rechargeable, and works similarly to the small little liquid packets you would put inside your gloves at the slopes, creating a small amount of heat radiant heat.
Along with the solar recharger from Sanyo, don't forget that you can charge up the Sanyo Eneloop rechargeable NiMH batteries. The novel feature of these batteries is not that they are rechargeable, which they are, but that they hold there charge a lot longer than normal rechargeable batteries when not being used. So much so that they can be shipped fully charged and are reported only lose about 15% of their juice after a year of sitting on the shelf.
Source [Akihabara News]