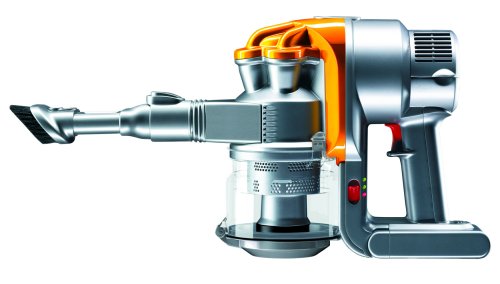 The new Dyson Root 6 puts the same lasting suction and quality of the Dyson upright vacuum's into the palm of your hand. Dyson has introduced a hand-held, battery powered version of it's big-brother vacuum's in which Dyson boasts that it too will never clog and will never lose suction with it's patented Root Cyclone technology.
Along with the impressive no-clog action included in this Dyson Root 6 hand-held vacuum, it has a nice feature with the battery to maintain the suction power consistently. Dyson states that the problem with battery powered vacuums is that as the battery wears down, so does the suction, but of course Dyson will have no part of that. Dyson made a 16 volt motor, which takes less volts than the 22 volt battery to run it. The battery provides a constant 22 volts to keep the motor and the same necessary speed the whole time. When the battery drops below 16 volts, the Dyson Root 6 just stops cold, so there is never a time when it will not be providing the full suctioning power.
The Dyson Root 6 is going to be available for sale in stores tomorrow (October 23, 2006) at a price of $149.99 USD.
Product Page [Dyson]