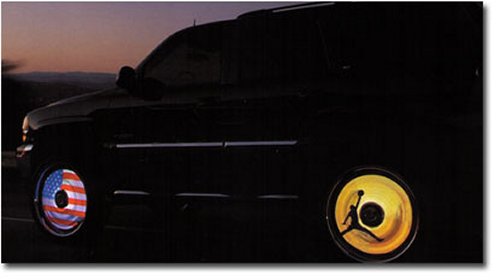 You are looking at a moving vehicle that has the PimpStar rims from Dub. These rims have built-in full color LED lights with a microprocessor and wireless modem on each wheel. This allows you to sit in your vehicle with the included software on your notebook PC and place virtually an image, text or a combination of both to display on your rims while driving. You can display the same thing on all rims or have something different on each one. All this can be done and changed as often as you want while you drive.
The included software for the Pimpstar rims allows you to pre-load a set of images to each wheel and allows them to change at different time intervals.
The rims can come in many, many different styles, are completely waterproof and run off of the vehicles electrical system, so there are no batteries needed. You can check out an example PimpStar Video to see the wheels in action.
Product Site [CustomWheel.com]