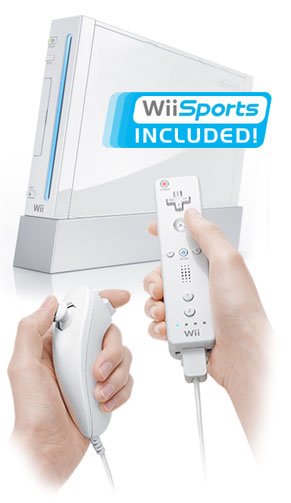 GameStop, which is probably the biggest video game retailer in the US, said on it will be accepting limited pre-orders for the Nintendo's Wii video game console yesterday (Friday), one per household. If you haven't gotten your order in, you better get on it.
All you need is 50 bones to reserve, but many stores were reporting to be out of availability within minutes. Maybe it's hype, but you can call your local Gamestop store first to see if they have some left. No online pre-ordering is/was available, but they say they will have something at a later date.
Nintendo expects to supply 4 million Nintendo Wii units to stores by year end, and Sony expects to ship 2 million PS3s in the same time period, so by my count if you missed the pre-order you just might be ok.

The Wii's one-hand controller may not turn out to be quite as cool as the tried and true controllers we've been using for years. It's a cool novelty, but more than likely if this was the design that worked best for more games I think we would have seen it by now, and new games that utilize the controller best may be a little ways off.

"Wii controllers are cool and the future of gaming, and Chet is stupid." [edit by Quagmire]
Nintendo's aim with the Wii was not as targeted to the hardcore gamers with this device, but to entice more game novices with innovative but easy-to-play games, which opens it up to younger kids (hence the McDonalds toys), which is the same concept that helped the Nintendo' DS handheld machine far outsell Sony's PlayStation Portable.
PreOrders Info [GameStop]
buy Wii, Nintendo Wii, order Wii, Wii