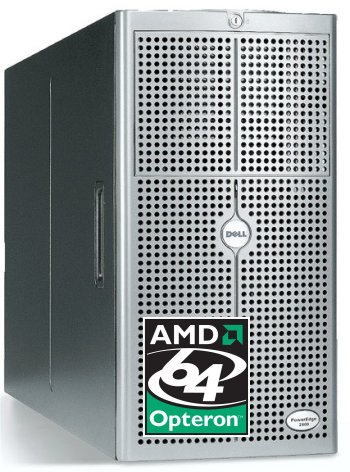 Dell unveiled two PowerEdge servers at a press conference at Oracle Open World yesterday which both feature AMD Opteron processors. These processors are "SE" variations, which were previously only available in servers from Sun Microsystems. This is after a near 7-year hold that Intel had on the giant computer maker.
The first server that was introduced was the Dell PowerEdge 6950, which is a four-socket server designed for database software, server consolidation, along with similar uses. Dell states that the performance is is still at industry leading speeds while it can use up to 20 percent less power than similar previous-generation servers from Dell. The 6950 features quad Opterons running from 2.0 GHz to 2.8 GHz.
The second server introduced with the AMD Opteron was the Dell PowerEdge SC1435, which is a two-socket server optimized for high-performance compute clusters, distributed Web serving and other potential small-business uses. Dell boasts that the Dell SC1435 with the Opteron delivers increased performance of up to 128 percent, and performance-per-watt gains of up to 138 percent. The SC1435 features dual Opterons ranging 1.8 GHz to 2.8 GHz.
The PowerEdge 6950 and PowerEdge SC1435 with dual-core, next-generation AMD Opteron processors are immediately available. Finally AMD can say "Dude, I'm gettin' in a Dell."
Press Release [Dell]