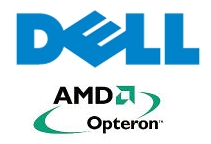 Dell has announced that two new models in its family of PowerEdge servers would feature AMD Opteron processors. The new processors will be found in the PowerEdge 6950 and PowerEdge SC1435 servers and are designed to lower power consumption and reduce complexity in server environments.
The Dell PowerEdge 6950 is a four-socket server designed for enterprise applications such as databases, server consolidation, and virtualization. The PowerEdge SC1435 is a two-socket server designed for high-performance clusters, distributed Web serving and small- to medium-sized businesses.
The AMD Opteron was the first of AMD's eighth-generation x86 processors based on the K8 core, and the first processor to implement the AMD64 (x86-64) instruction set architecture. The Opteron family was released on April 22, 2003 and was intended to compete in the same server market segment as the Intel Xeon processor.
The PowerEdge 6950 and PowerEdge SC1435 with dual-core, next-generation AMD Opteron processors are available now worldwide and priced starting at $6,499 and $1,299, respectively.