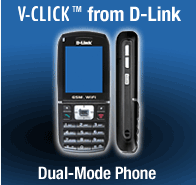 D-Link recently introduced its line of 'V-CLICK' dual-mode phones. These phones will allow users to easily switch between cellular and Wi-Fi networks with the click of a button.
The V-CLICK phones have a compact form factor (4.17″x1.73″x.75″) with a two-inch (176×220 pixels) screen. The V-CLICK phones support the Opera MobileTM mobile browser.
The new D-Link line of phones will feature both tri-band GSM (900/1800/1900 Mhz) and 802.11 Wi-Fi (2.4Ghz) access. The Wi-Fi connection can be activated or deactivated with a simple press of the V-CLICK button. This will give users access to websites or an Internet phone service
The V-CLICK is expected to ship 1st quarter 2007.
D-Link V-CLICK [D-Link]