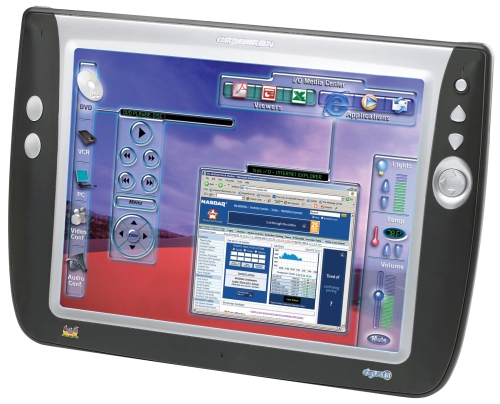 This WiFi touch panel from Crestron could quite possibly be the ultimate cool wireless remote control to run everything in your home. Imagine with a touch of a button, the Plasma TV, Stereo and DVD player all turn on, the window curtain goes shut and the lights dim.
This little tablet PC like device actually has Windows XP embedded as the operating system, and has applications on the device for browsing the web, watching streamed media, VoIP and remote desktop to your PC. Wow.
This remote control is a touch screen at 8.4″ with a resolution of 800×600 along with some handy dedicated softkey navigation buttons, a stylus, built in fingerprint scanner for security (you don't mess with another man's entertainment system), Bluetooth and has docking stations that can mount on a desk or on the wall when you aren't carrying it around.
This really takes the ultimate remote control up a notch or two. Hook up a Bluetooth keyboard and the number of reasons you have to get off of the couch have just been severely slashed.
Home Solutions [Crestron]