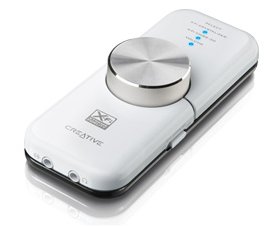 Although it looks like it might be a music player itself, the Creative Xmod Xtreme Fidelity gadget is actually used to improve the sound of you music for your existing player.
If you really like your music to be crystal clear with the X-Fi Xtreme Fidelity standard from Creative you might want to look into this. The Xmod device goes inline in between your player and the speakers or headphones that you are listening to, and actually improves the quality of the music beyond that of CD quality, according to the press release at Creative.com.
The Xmod works with a PC, Mac, ZEN, iPod or just about any MP3 player and will improve the sound of the digital audio files for MP3′s, WMA's, iTunes or AAC. This allows you to hear your existing digital songs in an X-Fi format without having to actually purchase them with the higher standard.
The device has two basic functions with the Xmod – X-Fi Crystalizer and X-Fi CMSS-3D. The Crystalizer will "upconvert" MP3 files to improve the sound quality by finding damaged or truncated parts caused by the compression. The CMSS-3D is used to create virtual surround sound through your speakers or headphones, which can make for a pretty cool experience when watching movies.
Press Release [Creative]