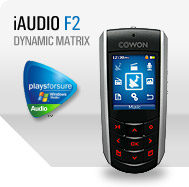 Cowon Systems recently launched the sophisticated ultra-mini MP3P, the 'iAUDIO F2'. The iAUDIO F2 incorporates a stylish and unique design into a user-friendly and functional player.
You can play videos and view text or images with the 260,000-color high definition LCD – all while listening to music. The 1.3 inch TFT-LCD allows users to navigate all the device operations with ease. The 9 function buttons are integrated on the front control and can easily be operated with one hand.
The iAUDIO F2 can be used as a pendant as it weighs in at an unnoticeable 39g (including battery) ensuring for exceptional portability. The built-in lithium polymer battery provides up to 22 hours of continuous play with just 3 hours of charging.
You can record all of your great ideas with the built-in microphone or you can use the direct encoding to receive and record sound directly from external devices like MDs, LPs, and TV.
The iAUDIO F2 can also be used as a portable disk via the USB connector jack.
Other features include an FM radio, clock, alarm, sleep setting, looping, search, and play speed control.
iAUDIO F2 [COWON SYSTEMS]