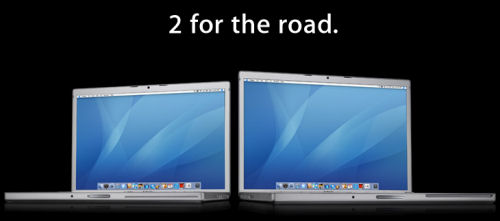 After some time of speculation, Apple announced today that its entire line of MacBook Pro laptops would now include faster Intel Core 2 Duo processors with 4MB of shared L2 cache, as well as double the memory and larger hard drives. Apple states that this increase in processing power will make the Macbook up to 39 percent faster than it's previous generation 2.16 GHz MacBook Pro and more than 7 times faster than the 1.67 GHz PowerBook G4.
Apple's Senior Vice President of Marketing was quoted saying "We are thrilled that our notebook sales are growing twice as fast as the overall notebook market, and we hope these new MacBook Pro models continue that success".
The new MacBook Pro's are coming out in three differnt models:
15-inch model with a 2.16 GHz Core 2 Duo and 1GB of RAM
15-inch model with a 2.33GHz Core 2 Duo and 2GB of RAM
17-inch model also with a 2.33GHz Core 2 Duo and 2GB of RAM
The new MacBook Pro's 15 inch and 17 inch models come in an aluminum enclosure that is only one inch thick and contains a built-in iSight® video camera. Each MacBook Pro can support up to 3GB of memory, and includes a dual-layer DVD writer, ATI Mobility Radeon X1600 graphics card, Bluetooth capabilities, FireWire, and standard wireless and ethernet connections.
Press Release [Apple]