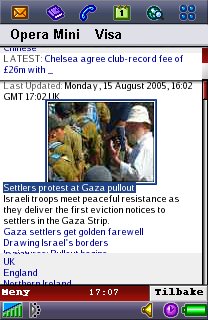 Opera Mini, which launched in February 2006, has recently released new version of its mobile browser for use on the Palm Treo and BlackBerry mobile devices, with the intention of offering a clean "…no-frills, instant gateway to the World Wide Web on today's basic line of mobile phones," according to Rolf Assev who is the Chief Commercial Officer of Opera Software.
Opera Mini is a smaller and more simplified version of the standard Opera browser,and is supposed to offer faster page rendering while using less memory, which in turn means less minutes of air time for the plan subscriber. The mobile version has nothing less than Google as the default page for search. The Opera Mini browser and the Opera 9, which was released in June 206, are available for free download at the Opera site.
Of course you must have an plan with your mobile phone that has internet access to take advantage of the Opera browser features on either of these devices, and the Opera Mini browser is not yet supported by Verizon Wireless carriers, and the Java 2 Micro Edition must be installed in order for it to work on the Treo.
Opera Mini [Opera.com]
BlackBerry, Mobile Web Browsers, Opera, Palm, Web Browsers