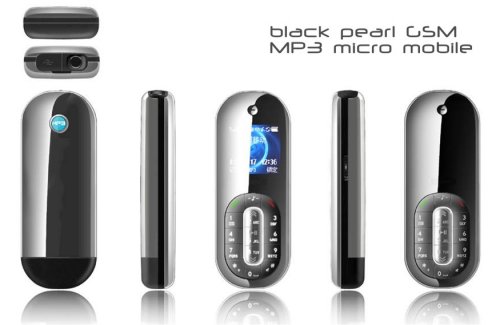 The Black Pearl GSM from Haier weighs in at only 64g and is 3.5 inches at it's longest point which makes this probably the smallest mobile phone I have seen (aside from Zoolander of course).
The Black Pearl GSM is comparable to the size of a lipstick case, and aside from the world phone GSM capabilities the tiny mobile device also contains an MP3 player, FM Stereo tuner, a voice recorder and a nice 1.1″ color OLED display at a 96×96 resolution.
With the small Black Pearl GSM, you can also transmit that FM signal, use it as a USB memory drive with it's existing 128MB (it charges via the USB interface, by the way) and add additional storage up to 1GB with the Trans-Flash slot or use wireless Bluetooth to transfer your data from this small, almost thumb drive size mobile phone.
The Black Pearl GSM uses a LI-ion mAH battery which gives it a talk time of up to 3 hours, a music play time of up to 11 hours and standby time of up to 200 hours, and is said to be available in the US, soon.
Source [blackPearl.BlogSpot.com]