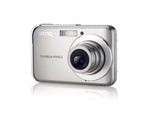 BenQ recently introduced the X720, a 7 megapixel digital camera with the world's slimmest body measuring in at a slender 12.5 mm. The X720 features a smc Pentax lens, 3x optical zoom, 1/2.5 inch CCD image sensor and a bright 2.5 inch LCD display. Other functions include:
S.S.F (Super Shake-Free) system allows the user to record photographs and videos with brighter, more natural color.
Supports high light sensitivity of up to ISO 1200 and up to ISO 4000 in recording mode. This helps to facilitate shooting fast-moving objects or taking photos in poor lighting conditions.
Offers 7-scene modes for quick setting adjustments as well as PictBridge function for direct photo printing via a compatible printer.
The BenQ X720 comes wrapped in a sharp stainless-steel case with a shiny metal grip. The new camera was recently awarded with the prestigious 2006 iF China Design Award and 2006 G-mark Good Design Award for its smooth, blade-like design.
"The design of X720 reflects BenQ's Meeting of Opposites design philosophy. It brings together work and play, technology and style, tenacity and smoothness." said Manfred Wang, Director of BenQ Lifestyle Design Center. "If you look closely at X720, you will see that it is the embodiment of refined style and technology, a perfect blender of pleasure and work"
X720 Digital Camera [BenQ]