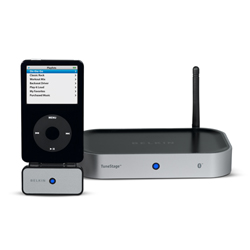 Looking for an easy way to listen to your iPod through your home stereo? The Belkin TuneStage II turns your iPod into the ultimate remote control so you can play the music from your iPod through your home stereo wirelessly via Bluetooth technology. You can have complete control over all iPod functions: change playlists, search for artists or individual songs, and adjust volume – all with the iPod click wheel.
Featuring advanced Bluetooth v2.0 technology, TuneStage II provides enhanced audio quality, improved rejection of interference, and lower power consumption. TuneStage II is fully backward-compatible with Bluetooth v1.2 and v1.1.
Some of the features of the TuneStage II include:
Bluetooth Version 2.0 with EDR
Access your playlists and all iPod features from up to 30 ft. away
Makes your iPod into a wireless remote
Up to 7 hours of playtime on a fully charged iPod3
Requires no batteries, power comes from iPod
Bluetooth receiver connects to your home stereo with included cable
Charges via USB with included cable
The TuneStage II is compatible with the iPod nano (1G and 2G), mini, and video and can also communicate with other Bluetooth enabled devices such as headphones, car stereos, cell phones, and computers.
TuneStage II will be available in late November for $149.99, with launches in Asia, Europe, and Australia to follow.
TuneStage II [Belkin]