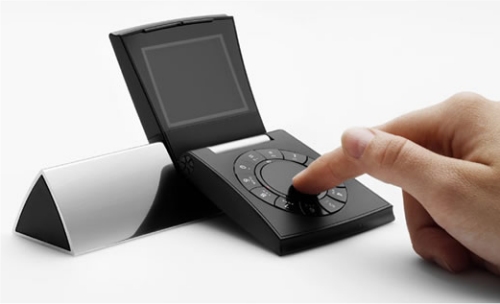 Bang & Olufsen, together with Samsung have been working for the past two years on a minimalistic and more intuitive approach to a mobile phone. What their collaboration has come up with is the Serene.
The Serene is a different shaped phone that appears to be upside down compared to most mobile phones today. When being used, the circular keypad is in the top half of the clam shell design, and the display and microphone are in the bottom half, which gives the already different looking phone an even more different looking angle when being used.
The keyboard portion of the Serene mobile phone also contains a loud speaker and a thumb wheal used for navigating menu options and functionalities on the phone.
The phone comes with a stylish docking station for charging, and while charging the orientation of the display switches 180 degrees so that the phone appears upright again for a more convenient use when it is on a desk.
Sticking with the minimalist goal, the Serene mobile phone has a scaled down set of features, but does include a VGA camera, supports Bluetooth technology, GPRS Triband connectivity (GSM 900 / 1800 / 1900 MHz), SMS, MMS, email and comes with 64 different, special polyphonic ringtones. The high color display screen is 2.1 inches wide with a resolution of 240×320.
Aside from the phone itself, the SereneMobile website says a lot to the design they are going for. The Flash based site does a great job of showing the minimalistic and sleek design of the phone. I especially like the "wood" sound in the "Sounds" portion of the site demo.
The Serene Mobile Phone from Bang & Olufsen along with Samsung is expected to be available for purchase in November of this year.
Cool Product Page [SereneMobile.com]