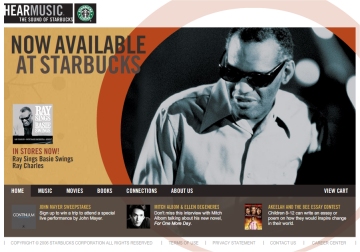 Starbucks and Apple today announced the availability of the Starbucks Hear Music catalog on the iTunes Store. This is great news for iTunes users as they will now have the ability to preview, buy and download a wide variety of Starbucks popular Hear Music tunes.
Hear Music produces a wide range of albums which showcase both new and classic artists. Popular collections like the Artist Choice series, Opus Collections, and Debut Series releases make this a popular brand among coffee and music aficionados. The iTunes Store will showcase the Starbucks Hear Music offerings in a special new Starbucks Entertainment section.
2004 was a big year for Starbucks Hear Music as it was launched on XM Satellite Radio and also saw the opening of a Starbucks Hear Music Coffeehouse in Santa Monica. Visitors to the coffeehouse can select from a catalog of over 15,000 CDs or burn their own custom discs. 2005 and 2006 saw the opening of Starbucks Music Coffeehouses in Maimi and San Antonio.