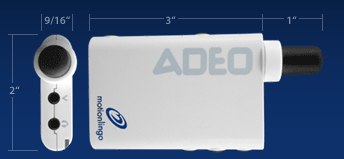 The Adeo Fitness Companion from MotionLingo is a pretty cool exercise gadget that fits inline with your headphone cord and tracks your outdoor workout.
The Adeo is really a GPS device that tracks your movements during outdoor workouts such as running, walking, biking, etc. As you move the Fitness Companion tracks your current position, the distance you have gone, your pace, and speed along with your workouts' elapsed time, the elevation and estimated calories burned.
The Adeo can report this information to you audibly during your workout through your headphones. This can come in very handy for long distance or marathon runners for example, who would like to be able to keep track of their pace without having to look at their watch or do in calculations in their head while running.
Back at the ranch you can upload the data from the Adeo Fitness Companion into your Mac or PC to track performance and workout statistics. You can map out your work out paths online and compare workouts from previous sessions.
What makes this device so slick is that there is very little setup necessary, and all your data can be stored on a free web based account accessible from anywhere that keeps a journal of your activity, an aerial plot of your workout path's, allows you to make training goals and even track the mileage you have on your shoes so you know when it's time for a rotation.
Product Page [Motion Lingo]