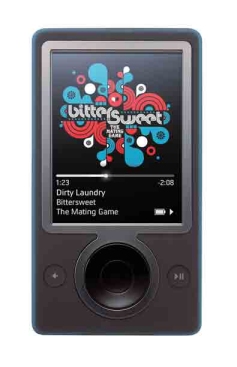 Microsoft has announced the price and launch date for its Zune digital music player and service. The new player will be available in the US on November 14th and will be priced at $249 (USD). Microsoft also announced that the monthly subscription to its new music service would cost $14.99 or 79 points per track using Microsoft's point system.
You won't be empty handed as the Zune will also come pre-loaded with a variety of songs and music videos. The audio tracks include: Band of Horses, "Wicked Gil" (Sub Pop Records), Bitter:Sweet, "The Mating Game" (Quango Music Group), CSS, "Alala (Microsoft edit)" (Sub Pop Records), Darkel, "At The End of The Sky (edit)" (Astralwerks), Every Move a Picture, "Signs of Life" (V2), Small Sins, "Stay" (Astralwerks), The Adored, "Tell Me Tell Me" (V2), The Rakes, "Open Book" (V2), The Thermals, "A Pillar of Salt" (Sub Pop Records).
The included music videos are: 30 Seconds to Mars, "The Kill" (Virgin Records), BT, "1.618″ (DTS Entertainment), Chad VanGaalen, "Red Hot Drops" (Sub Pop Records), Coldcut featuring Roots Manuva, "True Skool" (Ninja Tune), CSS, "Let's Make Love and Listen to Death From Above" (Sub Pop Records), Fruit Bats, "Live: The Wind That Blew My Heart Away" (Sub Pop Records), Grandaddy, "Elevate Myself" (V2), Hot Chip, "Over and Over" (Astralwerks Records), Kraak & Smaak featuring Dez., "Keep Me Home" (Quango Music Group), Kinski, "Live: The Snowy Parts of Scandinavia" (Sub Pop Records), Paul Oakenfold, "Faster Kill Pussycat (Featuring Brittany Murphy)" (Maverick Records), Serena-Maneesh, "Drain Cosmetics" (Playlouderecordings).
Film Shorts will be: 5 Boro: "A New York Skateboarding Minute" (Skateboarding), Radical Films: "Kranked – Progression" (Mountain Biking), TGRTV The North Face (Skiing/Snowboarding).
Zune Press Release [Microsoft]