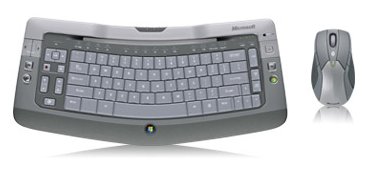 Microsoft has come out with the their newest Wireless Entertainment Desktop 8000 to be available in time to have for the Microsoft Vista full release. Microsoft says the new keyboard and mouse have additional features to help have even more control over your computer from the keyboard and mouse. Of course, this raises a question in my head about how I was controlling my computer before? It seems like I was pretty much use the keyboard and mouse…
Well, there are a few nice accessories and shortcut buttons (some of which are specifically for Windows Vista) that I guess can add some more control from the general keyboard area, both through software and hardware.
The Entertainment Desktop 8000 is wireless and connects via Bluetooth which allows you to be up to 30 feet away.
These are rechargeable. This is nice because one of the bigger draw backs to wireless devices like this is having to have extra batteries on hand for when the juice runs out. It comes with a dock to charge both the keyboard and the mouse. BTW – both the keyboard and mouse on the Desktop 8000 are backlit, which is nice but draws power, right? Well, the thing senses the ambient light and turns on the backlight only when needed. This saves power, and the backlight feature is great when trying to use the keyboard from your couch in a dimly lit room.
USB ports in the charging station. This is handy to be able to plug in your USB devices from on top of your desk instead of to the actual PC.
There are a number of other small features and accessories (webcam to name one) to the Wireless Entertainment Desktop 8000 with shortcut keys on both the mouse and keyboard to make your experience using your PC and OS a little more easier once you have Vista installed. Reports say the combo will be listed at around $250.
Desktop 8000 [Microsoft]