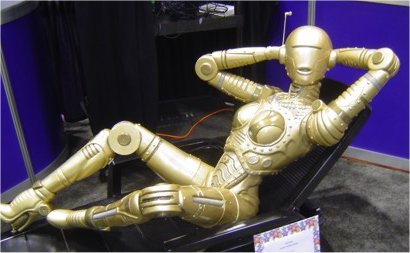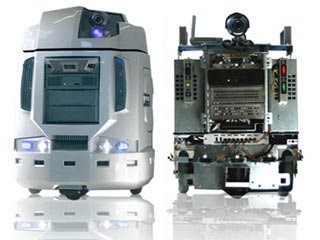 Although I think that a robot shaped like the top one might have been a better choice for White Box Robotics to use for the injection moldings template for their robots, I think the 914 PC-Bot they ended up with is not too bad looking, in a Star Wars kind of way.
The 914 PC-BOT (the one in white) is a 21″ tall XP Home PC with a number of other features and an API to allow you to develop against it for a wide range of custom behaviors to make your bot a little more life-like, such as navigation, speech recognition and some artificial intelligence algorithms.
The White Box 914 runs on batteries to power the two wheel drive train and the Mini-ITX driven PC. IT comes with a Gig of RAM, 40 Gig hard drive, combo drive and USB WiFi. You can get your hands on this PC-BOT for $5K USD, or wait until they get into mass production where they are expected to go down to $2K USD.
I think they could charge more if they implemented the upper design, but the folks at White Box haven't been returning my calls.
PC-BOT [mini-ITX.com]
Hot Girl Robot [Robot Rebellion]