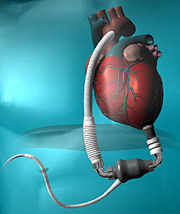 An artificial heart that doesn't beat? The Food and Drug Administration approved the first fully implantable artificial heart. The new innovative design is based on a pulse-free, continuously-pumping architecture. The ground-breaking design brings hope to patients near death from certain heart failure, although some problems remain with its large size and relatively short lifespan.
The new device is dubbed the AbioCor and is made by Massachusetts-based Abiomed. The AbioCor uses a hydraulic pumping system to simulate a natural heart beat. An alternative design formulated by O.H. "Bud" Frazier, a prominent heart surgeon, pumps blood through the body in a continuous cycle, rather than with the systematic beat of a normal heart. In Frazier's continuous flow design, a severely damaged heart is removed and replaced with two rotor-based pumps that continually cycle blood through the body.
Bring on the bacon and the chili-cheese fries.