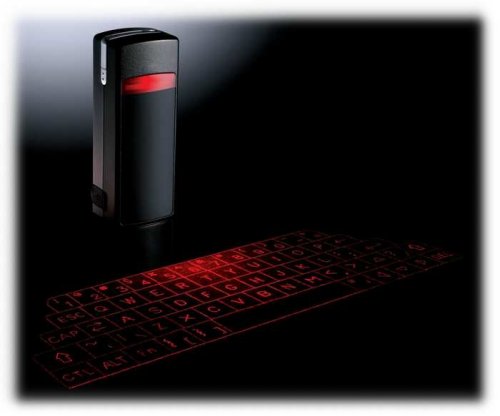 How could something the size of a lighter work as a keyboard? When the gadget has an infrared light and a laser built in of course. The Virtual Keyboard uses infrared and laser technology to produce the keyboard and view what's being clicked on by your fingers to make a circuit and work like a regular keyboard.
The infrared, full qwerty keyboard can be projected onto any surface and can work with desktop PC's, notebooks, PDA's or smartphones. It even goes so far as to produce the clicking sound when you hit the key to make it seem less virtual and to let you know that you are indeed hitting the keys.
The infrared virtual keyboard comes with either a Bluetooth version or USB, and has a number of accessories including an extra battery, charger, international adapter and serial to USB converter.
Compact Impact, the makers of the virtual keyboard are also working on a virtual piano that works with the same idea. The keys are displayed with the infrared and the faster you hit the key the louder the note plays out of the device it is connected to.
If you have a small device with a small qwerty keyboard or no qwerty keyboard at all and don't want to lug a full size one around, this Virtual Keyboard is definitely worth trying out. The device can fit easily into your pocket and you can have a full keyboard on the go where ever you are to speed up typing out lengthy emails and documents.
Virtual Keyboard [Compact Impact]
infrared, Keyboards, virtual keyboard