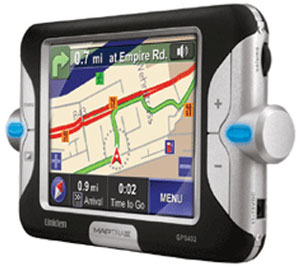 The most common consumer item I have seen from Uniden in the past is cordless phones, so when I saw that they Uniden was coming out wtih a line of GPS products I had to take a look. Uniden also makes some walkie talkie type items and marine radio devices, so I guess GPS systems are not too far off the mark for them.
The makers of the MapTrax focus on the fact that is has a large, colorful, easy to read touch screen. This is to improve safety while driving by avoiding have to fumble with buttons or dials.
The devices also are to feature Bluetooth integration and text to speach audio, which is almost a must now to compete with other popular mobile GPS devices; right, right? (My feeble attempt at making a reference to the Tom Tom GPS, if you didn't get it).
The MapTrax will come pre-loaded with the North America map, accepts voice commands 2Gig of map memory and even has a mounting bracket for your cards windshield.
If you are looking for a GPS for a holiday present, you may want to wait a little longer. The press release from Uniden says that they plan on launching this device in November 2006, which of course will be just in time for your holiday season shopping. More GPS MapTrax models are expected to be coming out in 2007 from Uniden.
Uniden GPS Press Release [Uniden]