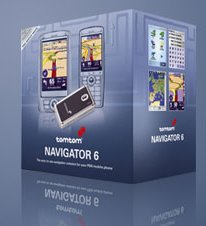 TomTom Navigator 6 is a software and hardware package that you can use with your existing smartphone or PDA. At first glance it may look as though this is another TomTom GPS device, but it is actually the navigational software and a wireless GPS receiver to integrate with your existing phone or PDA.
The software comes preloaded on a mini SD memory card with your country map and cross border navigation to anywhere in Europe. The wireless Bluetooth GPS receiver is the only actual significant piece of hardware. This is a pretty small device, but in some cases it may be actually bigger than your smart device your hooking it up to. This is to receive the GPS signal and transfer it to your handheld device. A car and A/C adapter also come with the TomTom Navigator 6 software.
This software comes with a lot the cool features of the standalone TomTom GPS systems to use in the comfort of you own handheld device for navigating just about anywhere in Europe. It also comes with preloaded databases and ability to get information on many traffic and safety information sources and cameras.
A neat feature is the TomTom buddies, where you can use instant messaging to keep track of pre-defined people and their specific location. There is also a speeding alert you can set so as you travel the software can alert you if you are going too fast.
The TomTom Navigator 6 software is showing compatibility with select models of the following brands: (You will want to make sure your handheld is going to be compatible before purchasing) – Palm, Acer, Dell, Eten, Fujitsu Siemens, HP, Imate, O2, Orange, Qtek, T-Mobile and Nokia. It also has many languages available, so it is definitely not limited to English.
More Info [TomTom dot com]