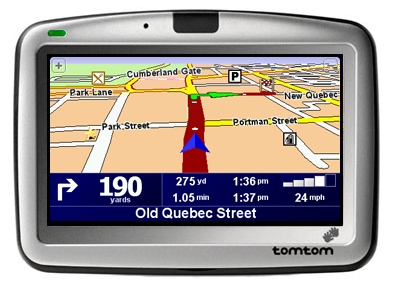 The TomTom GO 910 is a gadget that has more features pound for pound than most other gadgets I have seen. By trade I would say that TomTom is a GPS but it has a surprisingly large number of features that you might not expect, but make perfect sense once you see it.
For the GPS part of it, this model of the TomTom comes with door to door navigation in the US, Canada and Europe, a graphical bright color display of the maps in different views, and it speaks to you with direction instructions with it's text to speech feature (can read your text for other items too, not just the directions). Also, it can speak 36 different languages and it has 50 different voices to choose from. You interact with the device using the large touch screen to make it easy while driving with menus that have large icons to choose from.
The TomTom has Bluetooth connectivity, so it allows you to connect a Bluetooth phone to the device for voice dialing and using the TomTom as a hands free phone to speak into and listen from while driving. If you get text messages on the phone, it can read the text messages with the text to voice feature.
The TomTom has a 20G hard drive and 12G of that is left for you. This allows you to place photos to view on it, songs to play on the built in MP3 player or audio books to listen to while on long trips. You can also connect the already pretty decent speakers to the car stereo with an included cable or through the Bluetooth connection.
The GO 910 GPS has a remote control to navigate the menu and work out directions from anywhere in the car, and the TomTom device integrates with your iPOD allowing you to control it through the touch screen and play your music.
It has multiple built in features to support getting traffic report information and safety camera info.
There are still a pretty good number of features and accessories of the TomTom GO 910 GPS device that I did not list here that makes this gadget a little more than just a GPS, and really does justify it's cost.
GO 910 [TomTom]