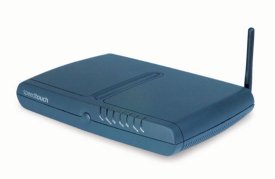 The SpeedTouch 780WL finally brings support for VoIP into Thomson's SpeedTouch line of broadband routers. The 780WL is targeted towards residential users and offers wireless connectivity with basic 54Mbps 802.11g operations. Both IADs support ADSL2/ADSL2+ and are backward compatible to ADSL offering auto-negotiation capability.
The SpeedTouch 780WL also supports powerful security mechanisms such as Wi-Fi Protected Access (WPA) and Wired Equivalent Privacy (WEP) encryption.
The 780WL may not be packed with the bleeding-edge features but it is one of the few broadband routers offering VoIP support at a low price point. The wireless performance is lacking but the router is very easy to manage making it a great choice for residential and home office use.
Thomson SpeedTouch 780WL Wireless Router [speedtouch]