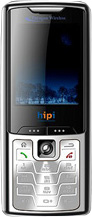 Paragon Wireless has announced the launch of what it claims to be the world's first SIP-based Windows mobile dual-mode handset at the VON show in Boston.
The hipi-2200 utilizes Paragon Wireless' VoWLAN / GSM dual-mode voice technology and the Windows Mobile 5.0 operating system to further expand the usability and functionality of this handset. Now corporate users can use the hipi-2200 to log onto a corporate internal IP-PBX from a hotspot or VPN, essentially allowing them to take their company phone on the road with the same call features and number.
"The hipi-2200 joins our product line as a result of our commitment to dual-mode product development, our experience in the handset market, and our continuous improvement to dual-mode technologies such as FMC features, security, power management, roaming, and over-the-air management of handsets. Paragon is able to offer a family of dual-mode handsets which are cost-effective technology leaders," said Ilkka Pouttu, Vice President of Sales and Marketing for Paragon Wireless.
The hipi-2200 includes built-in support for email, web browsing, Windows Media Player, camcorder, take and review pictures; all from one handset. The 1100mAh Li-ion battery offers users up to 4 hours of talk time or 100 hours of standby time.
The hipi-2200, with both GSM and WiFi radios simultaneously active, may be the only handset corporate users need to carry.
Press Release [Paragon Wireless]