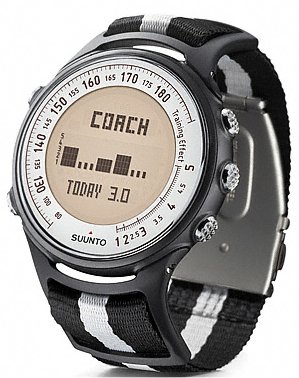 For the athlete in training (or wants to be in training) the Suunto t4 monitors your progress through your heart rate and optional accessories to measure steps, and makes intelligent workout recommendations for frequency, duration and intensity.
The Suunto actually makes the recommendations and you can accept them or not, and it continues to change based on the work out you have done and what your heart rate is. If you skip out, this little wrist coach has you make it up, if you work hard, you might get a break next time.
With the Suunto Coach feature, the Suunto t4 generates a five day plan for improving your condition and keep you in shape. It tells you which days to workout with information on duration and intensity.
If you accept the suggested workout, the Suunto t4 will guide you through your workout to make sure you receive the proper training load, but whether your chose to go with the work out or not, the Suunto t4 will continue to adapt your 10 work out accordingly.

Salient t4 features include:
Suunto Coach (adaptive training adviser)
Real-time Training Effect intelligence
Current heart rate, average heart rate and maximum heart rate
Real-time calories burned
Three-tier zone training system with alarms
2 adjustable heart rate limits with alarm
Speed and distance with optional Foot POD, Bike POD or GPS POD
Compatible with PC POD
Dual time, date and alarm
Log memory for 15 workouts
Stopwatch with 50 split laps
Interval timer
User-replaceable battery
HR Belt with error-free ANT transmission technology
Water resistant to 30m (100 ft)
Interchangeable bands
Equipped with optional PC POD and Training Manager Lite PC software, you can transfer data to your PC and easily maintain a personal training log. The Suunto t4 is expected to be available the fall of 2006.
Coach Watch [Suunto]