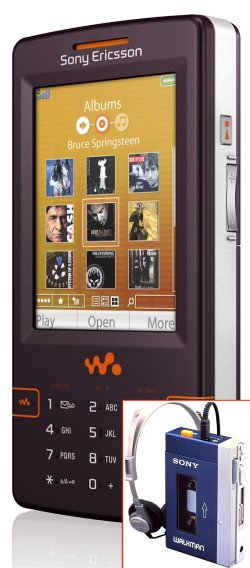 The Walkman really come a long way, and the contrast in neat to see with this new Sony W950i Walkman compared to the original Walkman of 1979.
The W950i Walkman is a mobile phone that will be released in the near future with an music player and a nice big touchscreen with big buttons to make navigation easy. (The original Walkman had big buttons, too.)
The W950i comes with 4 Gig of flash memory to store lots of music files, and uses 3G for fast web browsing with the Opera 8 browser. The new Walkman also supports streaming video, email, handwriting recognition, sound recorder, 3D games and picks up FM radio.
The W950i is one of a few phones that will be coming out from Sony Ericsson in the coming months. Other phones include the W850i which is a slider-design, the Z610i clamshell style with a 2 megapixel camera, and the K610im with hundreds of mobile internet services available at your fingertips.
All these mobile phones have Sony Ericsson accessories available for them, such as chargers, hands free blue tooth headsets, multimedia speakers, docks and specialized cases.
At only 15 mm thick and 112 grams the Sony Ericsson W950i Walkman mobile phone is a very slim a stylish mobile phone to be watching for.
Mobile Phones, Sony Walkman, W950i, Walkman