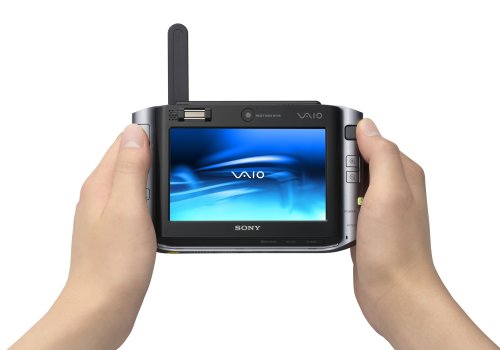 The Sony VAIO UX Series Micro PC works basically like a regular PC, but smaller. It runs the regular version of Windows XP and the VGN-UX280P pictured here has 40 GB hard drive and an Intel Core Solo Processor at 1.2 GHz and 1 GB of memory (this is the max allowed).
The Sony Micro PC has a keyboard and a touch screen stylus, so you can use either depending on what you are doing with it. The battery runs from 2 to 4 hours and can run up to 9 hours with a larger capacity battery. There is also a port replicator available for the Sony Micro PC so you can dock it and use a full size keyboard and monitor when you would like. The screen size is 4.5″ measured diagonally, and the Micro PC resolution runs up to 1024×600.
For network connectivity, you can take advantage of Ethernet, 802.11a/b/g LAN, WAN with Cingular and Bluetooth. There is also a built in microphone and speakers, so you can communicate through VoIP where service is available.
The Sony VAIO Micro PC also comes with 2 cameras built in, one at .3M pixels and another with 1.3M pixels. The VGN-UX280P comes with a biometric finger print scanner as well, so you can have the added security with your highly mobile device and lessen the chance of someone getting in when you are out and about.
These micro PC's are relatively new, and this is a lot of computing power and accessories in a small package. For people on the go a lot who really need everything that a notebook has to offer but would like it is something the size of a PDA this device is the ideal solution. A very lightweight PC, it allows you to be as mobile as ever without sacrificing the the robust OS.
Micro PC [Sony]