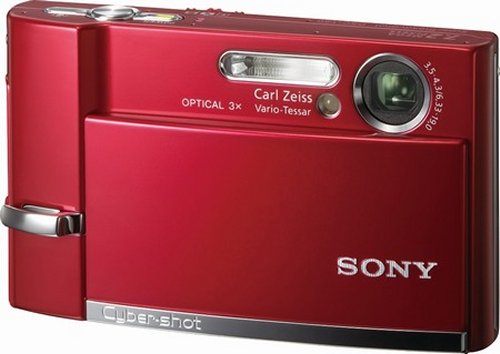 The new Sony DSC-T50 cyber-shot digital camera has stuck with the same anorexic trend as many of the new cell phones, which is good for those of you who are into really skinny gadgets like that.
The new 7 mega-pixel camera boasts a nice new feature of a 3″ touch screen. The purpose of the touch screen is to be able to remove a lot of the buttons necessary to run the menu and different fuctions, and be able to replace that room with the larger screen that you can touch to make your menu choices. (No eating with your fingers while photographing.)
The DSC-T50 also has a 3x zoom and 56MB of internal memory and takes Memory Stick Duo and Memory Stick Pro Duo media cards for additional storage (currently up to 4G). Battery life is expected to support up to 400 shots on a full charge, and a reduced shutter time allows quick turn around for snapping photos.
The new Sony DSC-T50 is supposed to be released in October of 2006 along with the new DSC-N2, and will come in colors of red, black and silver.
Source [PR Newswire]