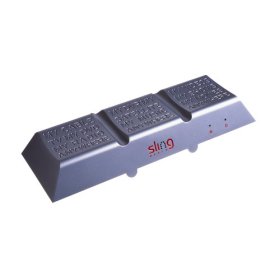 The Sling Media Slingbox
is a must have for those of you on the road that want to keep up on your recorded shows at home. If you haven't ever seen this, you really need to take the time to read this post.
The Slingbox allows you to watch your home television on any PC connected to the internet from anywhere in the world. They even have a Sling Mobile Player for Windows based smartphones. Here's how it works:
You connect the slingbox to your cabe, dish, DVR, TiVO, security camera feed or any TV input that you have. You have to also have an internet router to connect it to, either with a cable or wireless. Then you install the player software on your PC or Windows mobile device. You can now open the sling player and watch just like you would at home. The device has multiple inputs, and you can switch between them remotely.
The thing works pretty slick. You can switch channels just as you would on your TV, and you can use the same DVR functionality to fast forward, reverse or pause. THe box basically "slings" your home television inputs through the for your player only.
This is a really comprehensive system, and when looking through the Sling site, you can tell a lot of thought went into the Slingbox. It's definitely worth checking out.