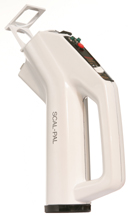 This interesting hand held gadget is called the Scal-Pal Scanning Adjusting Laparascopic Personal Laser from LASIK@Home. It's used for performing visioin correcting lasik surgery in the privacy of your own home.
What's extra-unique about the Scal-Pal (aside from enabling you to perform detailed laser eye surgery on yourself at home) is that this home lasik device is a femtosecond laser and excimer laser all in one. What does that mean you say? The femtosecond laser is used to cut a small flap off the top of your eye to allow the laser surgery underneath. The excimer laser is what does the intricate and detailed laser surgery to correct your vision without causing any damage to any surrounding tissue.
With this device you get the LASIK@Home kit of items, including:
The Scal-Pal Laser Device
A mild sedative of diazepam
Some special eye drops
An instruction guide
A post-op sleep mask
The home page for the Scal Pal details out the 4 easy steps to follow to perform your own home lasik surgery on your own eyes to be seeing better in only minutes. This product is a must have for anyone wanting to take the expensive cost out of lasik surgery, but still wanting the benifits.
If you liked this post, please watch for more posts coming out about similar products including:
The APPENDICTOMY@Home kit with the Scar-Mate.
The LIPOSUCTION@Home kit with the Suc-Buddy.
The LOBOTOMY@Home kit with the Unconscious-Companion.
Source [Lasik at Home]