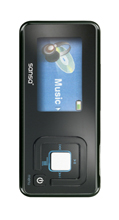 SanDisk has come out with a cool new MP3 player. This player, which is not far behind the iPOD works off of flash memory of course, since SanDisk is way into the flash memory business, and is available in a 1GB and a 2GB version.
The Sansa c200 has a color screen and allows you to play music, view photos and listen to FM radio. The Sansa supports MP3, WMA and WAV files and syncs up to Microsofts PlaysForSure subscription music. It interfaces to your PC with USB and has a MicroSD slot for additional memory.
This is a nice MP3 player and at the time of this post is under $100 which makes it relatively affordable. One thing to note is that the Playforsure music subscription from Microsoft will require Windows XP and Windows Media Player 10+. If you don't have these you would not be able to take advantage of the music subscription service with the Sansa c200.
MP3 player, SanDisk, Sansa c200