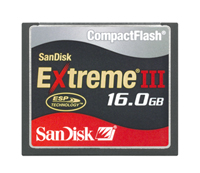 SanDisk Corporation recently announced the 12 and 16GB SanDisk Extreme III CompactFlash cards. This announcement makes these new cards the highest capacity cards in the world. The new large-capacity cards are targeted towards professional photographers who shoot RAW or high-resolution JPG files and need the performance and capacity to capture these massive files.
The new cards will have minimum write and read speeds of 20 megabytes per second (MB/sec.). The cards are expected to ship to photo retailers by the end of the year. The announcement was made at the Photokina trade show where SanDisk is demonstrating products in Hall 6, Stand D78/E79.
SanDisk Extreme III cards are available in CompactFlash, Memory Stick PRO Duo and SD card formats. Suggested retail prices for the two new capacities are $779.99 (USD) for the 12GB and $1,049.99 for the 16GB model.
SanDisk Extreme III Press Release [Sandisk]