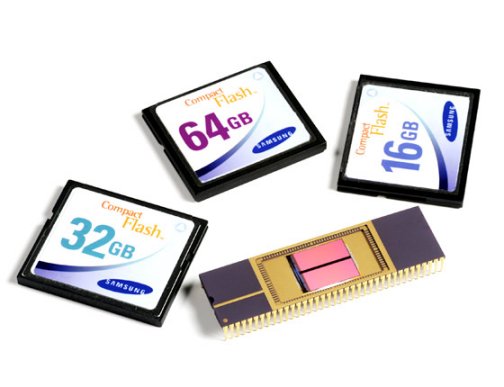 Samsung has released new 32GB NAND flash memory with smaller circuit elements of only 40 nanometers wide. The company said this new design enables them to scale better to continue to make larger and larger memory cards and continue to keep the overall size down and performance up.
What this means for the rest of us is the ability to hold over 64 hours of DVD movies or over 1300 hours of MP3 songs on one small flash drive of up to 64 GB. Some may say that this is a little much, but I remember years ago thinking that my 3GB harddrive was more room that I would ever use!
Along with scalability, Samsung says that the reliability of the memory will be increased as well due to the new structure. Reliability becomes increasingly important to me at the same rate as the size of memory for two reasons. One, because of the investment I make in the memory initially. If I pay a lot for a lot of memory in a small area, I want it to last a while. And two, the amount of data I will be holding on there will potentially be more and often for me the value of the data increases with the amount of it, as well.
When buying flash memory in the near future, be watching for cards with this new type of NAND Flash memory from Samsung. It's sure to make a positive change in the flash memory market going forward.
Press Release [Samsung]